The Great Street Feast 2023
Date
Venue
Join us for a world-class evening of gourmet street food and entertainment in support of Freedom from Torture, celebrating food and cultures from around the world.
We are delighted that The Great Street Feast is back this year, at the prestigious BAFTA Piccadilly.
We have brought together a hand-picked selection of London's finest chefs who will be cooking alongside survivors of torture to create the ultimate menu, celebrating food and cultures from around the world.
With appearances from iconic actor Joanna Lumley, who will be in conversation with broadcaster and Freedom from Torture Patron John McCarthy. You will hear about Joanna's illustrious career and be swept away by stories from her travels. Plus, live entertainment from the legendary comedian and author Alexei Sayle.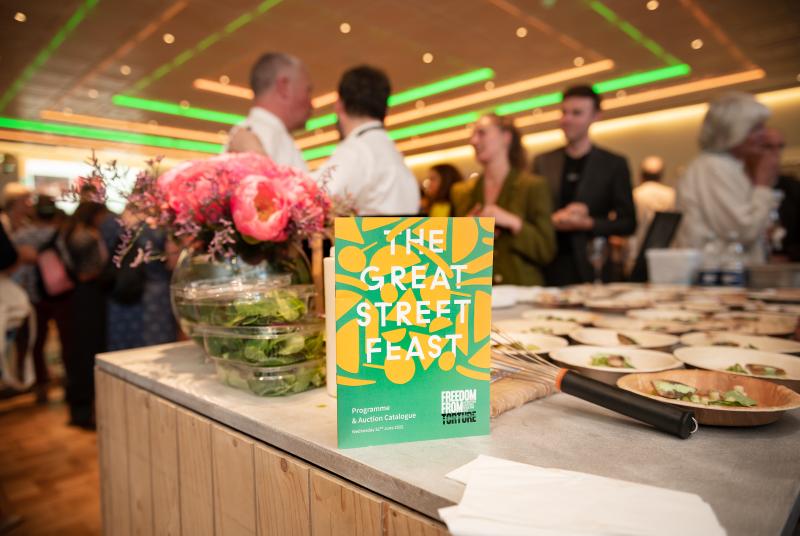 Venue
BAFTA, 195 Piccadilly, London W1J 9LN
Timings
7.30pm - 8:30pm Gourmet street food, fine wines and other treats and surprises
8:45pm Special Guests Dame Joanna Lumley and John McCarthy in conversation and live entertainment from Alexei Sayle
9:30pm Dessert By Cynthia Shanmugalingam of Rambutan
10:30pm Carriages
This year's chef line up includes:
Paul Merrett- Owner-director Jolly Fine Pub Group. Twice awarded Michelin stars in his fine dining days Paul now owns and runs 2 London gastro pubs - The Fox & Grapes in Wimbledon and The Victoria in Sheen, the latter being awarded Londons Best Gastro Pub. Paul has written 4 cookery books and made numerous appearances on TV. Paul has been an ambassador for Freedom From Torture since 2010. 
Anton Manganaro - BAFTA. Anton began his culinary career at the Royal Garden Hotel with David Nichols, formerly of The Ritz and the Mandarin Oriental Hyde Park Hotel, and since then he has worked with many well-known chefs including five years with Paul Merrett, achieving a Michelin star at Interlude and The Greenhouse. For over sixteen years, Anton has been Head Chef at the prestigious BAFTA, creating exceptional, modern dishes for stars of stage and screen.
Yogi - Survivor and Refugee Chef. Yogi came to Freedom from Torture after fleeing torture and persecution, leaving behind his wife and daughter. After struggling with his trauma, Yogi began to open up to his therapist and turn his life around. Yogi had never cooked before he arrived in London as a refugee, and after receiving support from Freedom from Torture, he discovered a new passion. He studied hard and is now 'chef de partie' at Park Plaza Hotel.
Philip Juma - Juma Kitchen. Phil is the heart and soul of Juma Kitchen. He has a simple mission: to share his beloved Iraqi food with as many people as possible. Phil is a self-taught chef, an Iraqi-English-Irishman who grew up in London with a passion for cooking Iraqi cuisine. After gaining experience working in some of London's top kitchens (The Savoy, Maze, NOPI restaurant and Ishbilia), he started JUMA Kitchen, running acclaimed pop-up dinners. Since then, he's appeared on BBC's Saturday Kitchen, appeared as a judge on Masterchef The Professionals, been awarded winner/finalist for Best Street Food by the BBC Food & Farming Awards. He's also written columns for the London Evening Standard newspaper, been invited by the prestigious Le Cordon Bleu cookery school to teach Iraqi cooking classes, has hosted over 100 sell-out suppers and catered numerous high-end events. In 2019 he opened his Iraqi street food kitchen, KUBBA at Borough Market.
Chaya Maya - Ottolenghi. Chaya was born and raised in Mauritius. She moved to London for further education as a teenager and accidentally fell into cooking for a living when someone suggested that she do it for a living after having tasted something she made. She found work in pub kitchens and slowly made her way to the kitchens in London restaurants. Chaya now develops recipes in the Ottolenghi test kitchen for the Guardian and the Ottolenghi restaurants. Her cooking is deeply influenced by her Mauritian heritage. She is very passionate about spices, tropical flavours and eating (not cooking) Japanese food. 
Cesar Garcia - Iberica. César is the Group Executive Chef at Ibérica Restaurants, and has been overseeing the kitchen operations since day one, fourteen years ago. Working as Nacho Manzano's right hand here in the UK, his role includes curating and implementing innovative dishes into the restaurants. César's interest in gastronomy started young, growing up in Asturias, where much of the industry is centred around farming produce from the land and sea, creating the perfect playground for experimental cooking.
Cynthia Shanmugalingam – Rambutan. Cynthia is a British-Sri Lankan cook who grew up in Coventry, visiting Sri Lanka every childhood holiday and eating dishes adapted by her mother and grandmother at home. She is the CEO and founder of social enterprise, Kitchenette Karts – a Vietnamese street food truck and organisation training young adult ex-offenders to help kick-start their career in the food industry. Cynthia's highly anticipated restaurant Rambutan, opened in March 2023 and in June 2022, she published her very first cookbook of the same name, Rambutan: Recipes from Sri Lanka.
With specialist fine wines from Farr Vintners, a gastronome-inspired Silent Auction, gourmet prizes to win in the grand raffle and handmade gifts from our survivor shop.
Tickets are priced at £70 and include all food, wine and entertainment.
With all proceeds going to Freedom from Torture.
 Book online or call us on 020 7697 7812.