Training for organisations
We offer training and other support to professionals who work with refugees, asylum seekers and vulnerable migrants, including people that have survived torture.
We can help you and your team:
Understand the impact of complex trauma and loss on people
Assess the needs and risks of survivors of torture and their families
Learn good practice in working with survivors of torture
We offer:
Facilitated regional round table events
Training in a variety of subjects for people who work with survivors of torture
Supervision, peer support and consultation
We make sure that any training we deliver is relevant and appropriate to you.
Because we want you and your team to feel confident putting the learning into practice straight away, we usually ask staff and volunteers to participate in a pre-training 'needs analysis'. This allows us to learn more about your work and specific challenges.
Current training programmes
We do not currently have any open training programmes on offer. However, if you, your team or organisation would like in house training, please contact us at training@freedomfromtorture.org.
The course definitely improved my understanding, great delivery style - relaxed discussion, able to raise points and ask questions, backed up with good handout information.
Sally, Nurse
We can train and support:
Psychotherapeutic practitioners in voluntary and statutory counselling services
GPs, nurses, midwives, psychiatrists, pain specialists and other health professionals
Social workers
Child and adolescent mental health services staff
Frontline advice workers for asylum seekers and refugees
Legal representatives
Housing providers
Our trainers
Our training and supervision sessions are facilitated by our frontline practitioners, who work directly with survivors of torture. They bring lived experience as well as theoretical knowledge of working with survivors to training.
At Freedom from Torture, we have been working with people who have survived torture since 1985. We practise ethical and empowering approaches to supporting survivors.  We help people managing the long-lasting physical and psychological effects of the torture, as well as the trauma of loss and living in exile.
Where we operate
We can offer training all over the UK.
Real voices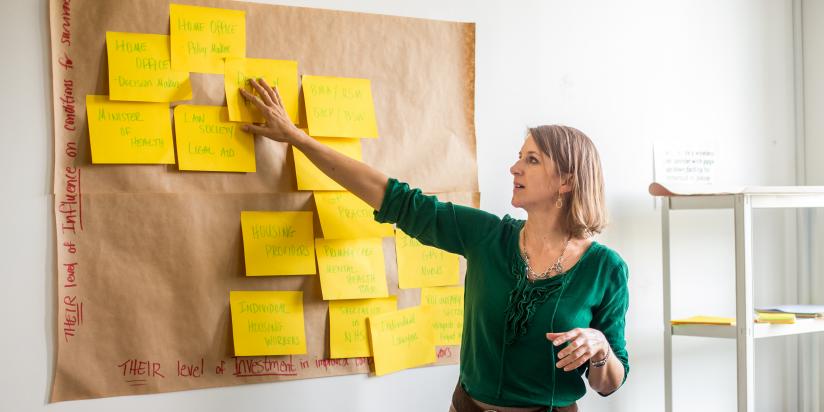 A day in the life: leading our training team
Tina has over 15 years of experience developing training and learning programmes at Freedom from Torture. In that time, she has helped professionals who work with people that have survived torture become better at their job.
Find out more about what it means to train
If you'd like to stay up to date with our training programmes, please email  with the subject "subscribe" to be added to our mailing list. By doing this you consent to our contacting you by email about current and future training programmes. Read our privacy policy. 
EMAIL US