Art therapy at Freedom from Torture
Creativity is at the heart of healing here at Freedom from Torture and this week, a new Radio 4 documentary looks at how the art therapy we offer positively impacts the lives of survivors of torture.
Every week, we run a drop-in art studio for survivors of torture to come and piece together their trauma in a safe and controlled environment where we've seen seriously talented artists produce profound and beautiful artworks.
In the documentary, you'll hear from Ronce, a vastly talented artist who was a political prisoner in the Democratic Republic of Congo, who speaks about how art helps him find a moment of peace and process his trauma. 
If you missed the show live, you can listen to it on the BBC website. 
Ronce's piece, Africa, is discussed in the BBC Radio 4 documentary, The Art of Recovery.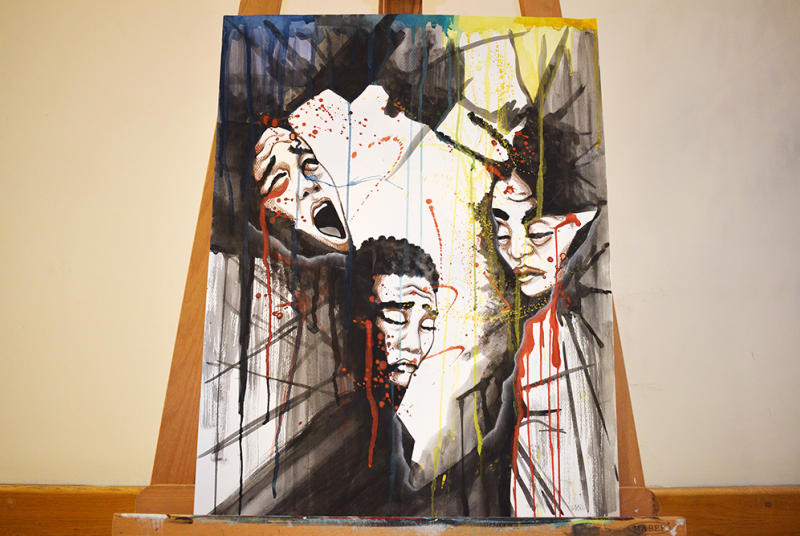 Here at Freedom from Torture, we use art therapy to help survivors of torture. Find out more about what art therapy is, how it affects the brain and what it can treat.
Frederica Brooks is an art therapist at Freedom from Torture, we asked her about how art therapy works and what it means for survivors of torture. 
I run the Open Art Studio (a drop in therapeutic art studio group) in the London centre, where I encourage ongoing creative development in a stable and safe environment. Once a week, we have an open-door policy in the art studio and we encourage survivors to come and work on their projects. 
Across our UK centres, we run a variety of art therapy sessions though I know other therapists practice art therapy in different ways. As art therapists, we have to be flexible and adapt our methods to suit the group. For example, other art therapy sessions might focus more on emotional expression, stabilisation, development and understanding.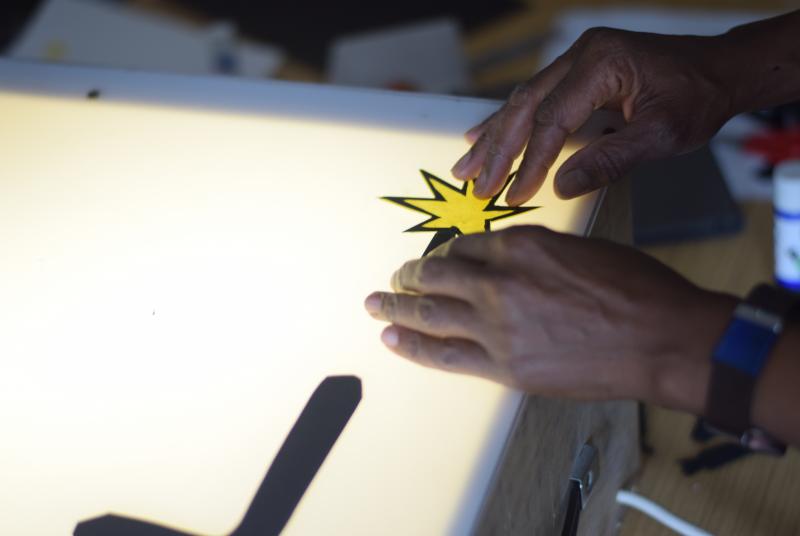 What is art therapy?
Art therapy uses art and other visual media as a therapeutic medium for people who have been through traumatic experiences. That's why we use art therapy here at Freedom from Torture. 
How does art therapy work?
By creating something, you develop self-confidence. The action of making something has beneficial effects on our brain and we can create a variety of different images all of which can symbolically or metaphorically carry different meanings. 
During a session, an art therapist will observe a person creating their work. The art therapist may ask questions about a person's current or past situation to build an understanding and create a link between their memories and their work. So, usually during an art therapy session, we make sure that there's time to discuss what's been created. 
Many art therapists also work in a way that uses art-making as the therapeutic act without the need for additional verbal exploration. But different methods have their merits. Here at Freedom from Torture, we use the style of working that's most suitable for any particular client to engage with.
Who benefits from art therapy?
Anyone can benefit from art therapy. Anyone who's willing to have a go at using creative materials in the presence of a therapist and who is open to learning and understanding more about themselves, feelings and how they relate to others. 
What can art therapy treat?
Art therapists work in a wide range of treatment and therapy settings: psychological, physical, and across the life cycle (with the very young and with people in later life). Art therapy practices have been established in acute inpatient physical and psychological treatment centres as well as in community settings. Some GP Social Prescribing practices have also referred to community art-based services.
Can art therapy help with depression and anxiety?
Art therapy can help with depression and anxiety. The act of creating something can help with low self-esteem, low mood and depression. Creating a safe environment which can be accessed regularly is also the ideal set up for someone with anxiety.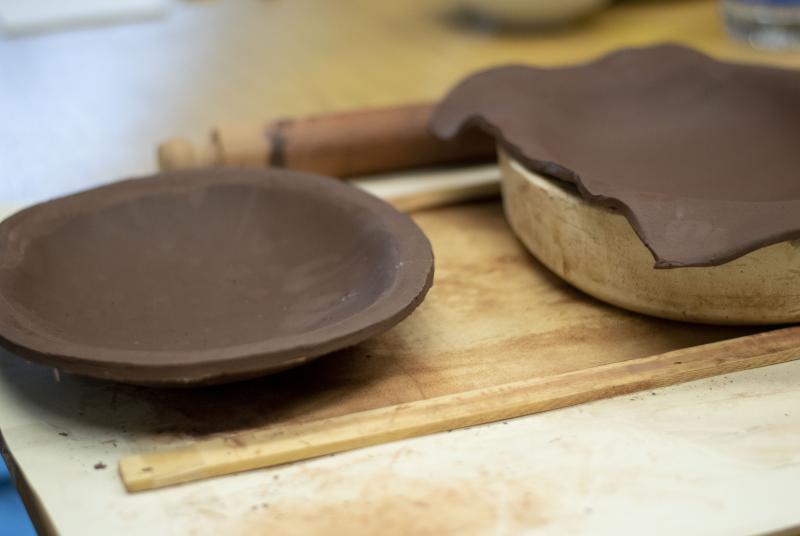 What art therapy does Freedom from Torture offer?
We offer a variety of different creative therapies as well as offering access to education in different creative mediums such as photography, writing plays and animation. We offer them both in-house, as well as collaborating with other services such as Accumulate and Articulate.  
How can art therapy help survivors of torture?
We help survivors of torture through art therapy in the same way that art therapy can be helpful for someone experiencing anxiety or depression: by creating a safe environment with regularity. Specifically, in relation to trauma, Bessel Van der Kolk, a psychiatrist noted for his research around post-traumatic stress since the 1970s, has written about art as one of the therapies using non- verbal creative media to bypass the wordlessness that often accompanies horrific experiences.
In 2017, two psychologists from Lancaster University did some research on the impact of therapeutic art on torture survivors here at Freedom from Torture. They found that our art programmes increased feelings of safety and decreased social isolation. All in all, with the help of an art therapist, art therapy can be really beneficial for torture survivors.
Other forms of art therapy which can be beneficial to survivors of torture might include the use of art materials to reprocess traumatic memories by using a repetitive technique. This works similarly to EMDR but rather than eye movements uses creative materials.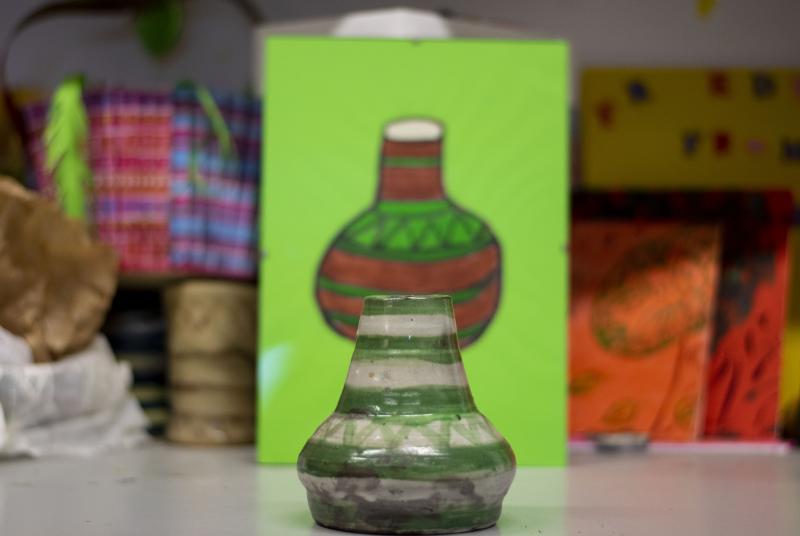 How does art therapy affect the brain?
Neuroscience is still a developing field, but it can explain the effects of creative activities on the brain. Using the right-hand side of the brain (the creative side) is known to have positive effects on our psyche.
The 2019 inaugural International Art Therapy Practice/Research conference featured many innovative practices with neuroscience and art therapy. The psychiatrist Ian McGilchrist has for many years worked with and valued the work of art therapists and arts therapies for their beneficial engagement with right hemispheric brain functions: these are things like seeing the world at large in context, working with new experiences, working with implicit meaning and not being dependent on verbalisation.   
What results have you seen from art therapy at Freedom from Torture?
Through art therapy, I have seen survivors of torture able to communicate the most unspeakable things that have been locked deep inside through creativity. Things which were too frightening to express are suddenly unlocked. It's very moving.
What's your favourite thing about art therapy?
I love that art therapy enables us to offer some choices. I like that it's a medium in which people can respond to serious things using art and creativity.
I also like that art therapy can validate playfulness. It's a really important form of resilience, especially in very horrifying and grave circumstances.