Marshall Billingslea: Donald Trump's terrifying nomination for a top human rights position
Donald Trump has nominated Marshall Billingslea, an ex-army official with a well-documented history of advocating illegal interrogation practices such as torture, to lead U.S. human rights policy.
If appointed, Billingslea would have the top human rights role in the State Department. Trump is a known advocate of torture, having publicly supported the return of waterboarding and "a hell of a lot worse." During his time as President, he has nominated several Bush-era officials involved with torture, including current CIA head Gina Haspel.
Rules matter. The torture ban is the ultimate litmus test of a fair, decent and tolerant society.
What is Marshall Billingslea's human rights record?
Given his nomination to the role of Undersecretary of State for Civilian Security, Democracy and Human Rights, Billingslea's track record on human rights is of great consequence to the domestic and foreign policy of the Donald Trump administration.
And yet, he is most well-known for attempting to roll back on human rights and instead advocating for the use of torture.
In 2003, Billingslea was part of a working group in the Department of Defence who recommended that the Secretary of State authorise the use of 35 different interrogation techniques – several of which constituted torture. Billingslea recommended sleep deprivation, isolation, use of phobias, nudity and threats of deportation to countries where deportees would be at risk of torture.
According to the Senate Armed Services Committee report on detainee treatment, when Billingslea learned in April that year that not all of the 35 interrogation techniques he had earlier recommended had been used, he sent an additional memo urging that all techniques had been "endorsed by the working group" and that they must be implemented. 
Also in 2003, Mohamedou Ould Slahi – a Mauritian man who was detained in Guantamino Bay for 12 years without charge was sentenced to torture by Billingslea as he recommended that an official approved the use of isolation, sleep deprivation and sound modulation. The techniques were approved on his advice and it has been reported that such torture left Slahi "hearing voices."
Complicity in torture in any capacity should disqualify officials for top Human Rights roles. This much should be obvious in the 21st century.
What would Billingslea's appointment mean for human rights in the US?
Billingslea's appointment presents a conflict of interests.
The person in this role will be dealing with survivors of torture regularly – appointing Billinglsea in this role only puts them at further risk.
We're seeing an authoritarian turn globally. Elevating a torture advocate to a top human rights position means that the US will be unable to take a moral high ground and protect others who have been persecuted in countries where basic human rights are at threat.
On the 19th of September, there was a nomination hearing before the senate which allowed the democrats to dispute his nomination in front of the Foreign Relations Committee. During the hearing, Billingslea incorrectly defended himself against the Bush-era allegations by suggesting that torture was not illegal until the McCain-Feinstein amendment in 2015.
This statement shows that he holds no regard for the absolute ban on torture, ratified by the UN Convention against torture back in 1984 – decades before he was complicit in torture during the Bush administration.
Billingslea has proved himself to be dangerous with a flagrant disregard for international laws deeming him as unqualified to preside over human rights legislation.
The role Billingslea played during the Bush administration has led to concerns from human rights groups, with 21 organisations signing an open letter to US Senators in September 2019.
As a senior Pentagon official, he is known to have ignored the advice of top military lawyers regarding interrogation techniques and other cruel, inhuman or degrading treatment. 
"Guys, it's time to wake up and smell the coffee," he is quoted as having said. "It's time to take the gloves off."
During the Bush administration, the phrase "take the gloves off" was often used to justify the abuse of detainees, and it became synonymous with torture.  
During the Bush administration, Billingslea coined the phrase "take the gloves off", which became synonymous with torture.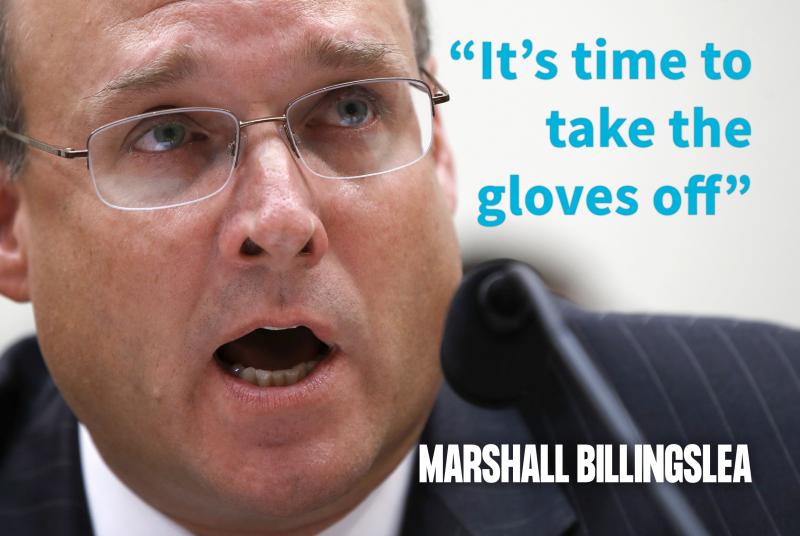 What does the Undersecretary of State for Civilian Security, Democracy and Human Rights do?
The Undersecretary of State for Civilian Security, Democracy and Human Rights is within the top US executive branch responsible for human rights policy.
The person appointed will be responsible for promoting universal human rights whilst also protecting refugees driven from countries which use torture as a means of control. They will also be in charge of the purse strings of foreign assistance and be responsible for protecting them against further abuse; not inflict it.
Who is Marshall Billingslea? The facts:
Spouse:
Karen Anne Billingslea
Children:
Morgan Alyssa and Elsa Breanne
Education:
Marshall Billingslea graduated from the Fletcher School of Law and Diplomacy in 1995 with a Master of Arts in Law and Diplomacy. He went on to graduate with a distinction and high honours from Dartmouth College.
Career:
Before he began his government career, Billingslea served as the managing director of business intelligence services at Deloitte with a particular focus on illicit finance. 
He began his political career in 2001 during the Bush Administration as an aide to Senator Jesse Helms, before becoming Deputy Assistant Secretary of Defense for Negotiations Policy in the Pentagon's Office of International Security Policy.
Billingslea also worked in Brussels as the Assistant Secretary-General of NATO for Defense Investment where he oversaw operations against al'Qaida following 9/11.
He received his first nomination from Trump in April 2017 as Assistant Secretary for Terrorist Financing in the United States Department of the Treasury, which he currently holds. 
Want to be kept in the loop?