Oxford Freedom from Torture take on virtual events
Across the UK, Freedom from Torture's local groups are fundraising and raising awareness for survivors of torture. 
The outbreak of coronavirus has made it really difficult to raise funds at events, but local groups, like the one in Oxford, have got creative to find new ways to fundraise.
Read more to meet Ann, the chair of the Oxford group and to find out about their virtual gardening event. 
 
Who are you and can you tell us about the Oxford local group? 
I'm Ann, the current chair of the Oxford Freedom from Torture group.
The Freedom from Torture Oxford local group has existed since around 2000. 
We usually meet in each other's houses about five or six times a year and work together on a programme of events, which, over the years, have included screenings, concerts, coffee mornings, annual open garden & afternoon tea and finally, poetry readings.
A standout moment for us was when we walked from Becket House, Immigration Office, near London Bridge to the Freedom from Torture Head Office. We did this in solidarity with survivors of torture who have to take long walks there as they have insufficient funds to take public transport.   
We all have a strong commitment to Freedom from Torture as well as a strong sense of loyalty to each other. 
It's a really special group to be involved with.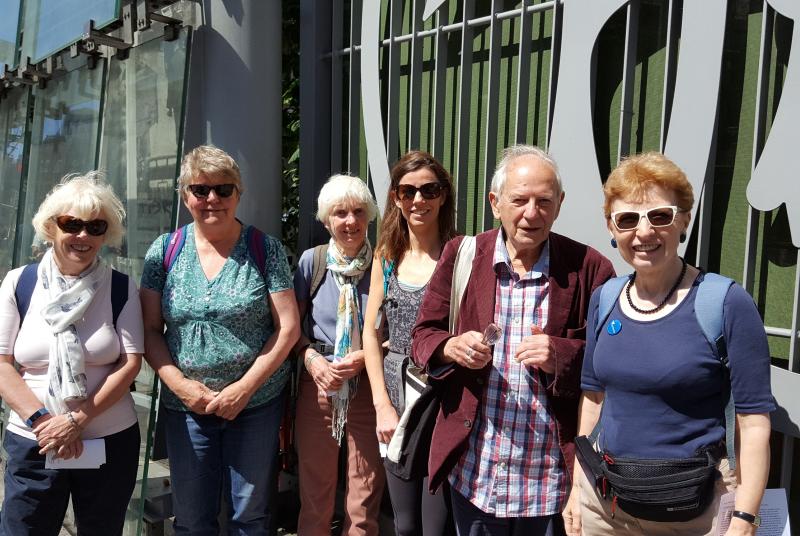 Can you tell us about the gardening film project? How did you come up with the idea and what was it like to put into action?
Every year for the last five years we've been running an open garden and afternoon tea event. 
This year, however, with the outbreak of coronavirus, we had to cancel it, along with a few other events.
Since life generally seemed to be "going online" – meetings; book group discussions; theatre performances, etc. we decided we had to do the same.  
We had already screened 'Feeding the Darkness', kindly performed and filmed by Journeymen Theatre for Refugee Week, so we thought, "why not try some of our other events online too?"
We decided to film our own gardens as a substitute for the open garden event – even if it meant we couldn't have the usual benefit of cake!
Three committee members filmed either their own gardens or persuaded friends to allow their gardens to be filmed with a commentary from the garden owners. There were many practice-runs and different media, much of which was new to us!
We produced seven short videos, including one about the difficulties being experienced by survivors of torture as a result of Covid19 and asking for donations.
The experience was like nothing we'd ever done before, but we knew it was important to keep fundraising for survivors of torture. 
What would you tell someone who was considering joining a local group?
Joining a local group is a life-enriching experience. Working alongside other people with similar views is inspiring and having the opportunity to meet and talk to survivors of torture is so special.
Fundamentally, supporting people who have gone through unimaginable trauma such as torture, is such an important and valuable thing to do.
Survivors are able to make such wonderful contributions to this country once they've had the support and rehabilitation they need. It's important that we're doing what we can to make access to rehabilitation possible.
If you have some spare time and you're looking for ways to support survivors of torture – why not join a local group?
You can help raise funds to support survivors, help us campaign for change, and meet other volunteers in your local area.
See whether there's a local group in your area.
Find your nearest local group