Small grants, big impact: The Comfrey Project
Thanks to your overwhelming response to our COVID-19 relief fund appeal we've been able to provide small grants to charities, like the Comfrey Project.
The grants scheme has allowed us to channel our supporters' generosity to reach more torture survivors, and support the incredible work that small charities on the frontline are doing to keep survivors safe and well.
The Comfrey Project is a safe and welcoming community space for refugees and asylum seekers who find themselves worlds away from home, family and friends after their journey to safety. They foster personal wellbeing, social integration and community health through activities like allotment gardening, cooking and crafts.
Photo from the Comfrey Projects archives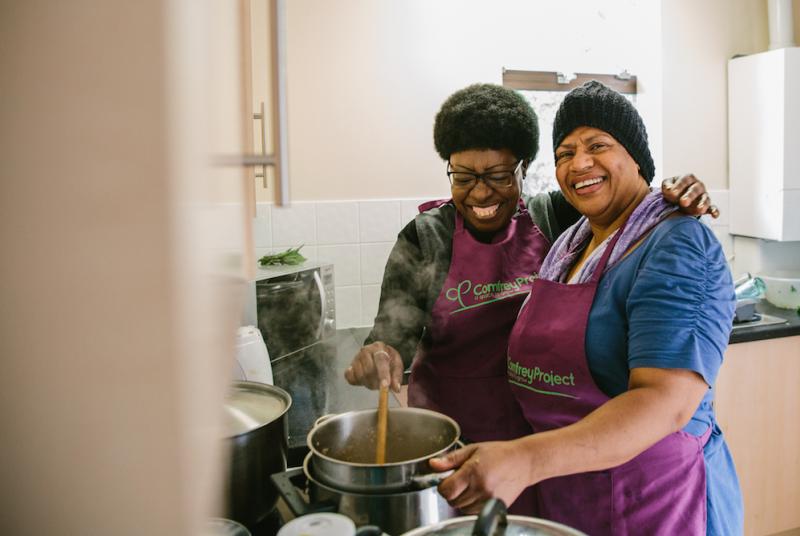 The charity is using their small grant from Freedom from Torture to provide emergency support during the pandemic to the refugees, asylum seekers and torture survivors they work with. D., a young woman from Nigeria, is one of the Comfrey Project clients who is receiving much-needed help through the grant.
D. has been struggling with depression and a decline in her physical health. She is currently being treated for severe anaemia, and has various appointments for tests at the hospital. D. couldn't afford the travel costs to get to her appointments, so despite being physically exhausted, she would walk for over an hour to get to the hospital – once almost being hit by a car during a dizzy spell.
Thanks to your support, the Comfrey Project is able to provide D. with funds to travel to her hospital appointments and therapy sessions, as well as supermarket vouchers for fresh fruit and vegetables to help regain her health.
Help more survivors like D.