Along with generous legacy gifts, Freedom from­ Torture is privileged to receive donations from kind supporters, in memory of a loved one who has passed.
We have created a virtual Remembrance Garden as a special place for people to visit and celebrate the life of a loved one, by crafting a personalised tribute from treasured words and photos.  If they wish, they can also choose to make a donation towards our work.
A well-loved GP, Matthew Young was a dedicated supporter of Freedom from Torture.  He sadly passed away unexpectedly just two days before his 60th birthday, whilst out cycling with his friends.  
Matthew's wife, Donya, has generously chosen to share his story as an opportunity to spread awareness of Freedom from Torture's work.  "Matthew would not want us to be mired in grief," she said.  "He would want us to try to harness people's love and goodwill, in a constructive way that benefits the most vulnerable."
Matthew was born in the front room of his parents' house in Wickham, Hampshire – a house in which his sister still lives today.  They spent a happy childhood there, until Matthew moved away to university.
Matthew and Donya met and married at the end of their university studies, settling in Bromley to start their first jobs.  "We never moved away, although Matthew would have loved to return to the countryside one day," said Donya.
Matthew absorbed his Christian values from his parents, and was passionate about never taking himself too seriously.  However, he took his work as a GP, and treating people whose lives were affected by alcohol and substance misuse, extremely seriously.  
Along with his family, Matthew's many interests included Arsenal Football Club, U2, and his local church.  "He put his heart and soul into the life of the church," said Donya, "and he never forgot to make things fun.  He put a lot of time and effort into developing youth activities, and he loved silly hats.  He was happy to model an Easter bonnet every year, when we held our annual fundraising event for Freedom from Torture."
Donya also has fond memories of attending other Freedom from Torture fundraising events with Matthew and their children, including the Great Street Feast.  "We sampled lots of delicious foods together, which was lovely… though we did have to control each-other's bidding in the auction!" she said.
Matthew Young with his son attending Great Street Feast.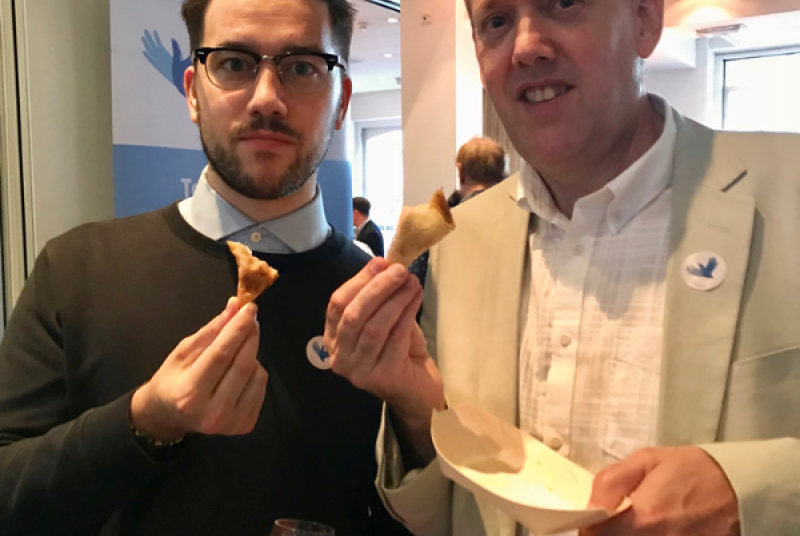 Four years after Matthew and Donya began supporting Freedom from Torture, Matthew made a presentation to the church.   Speaking from the heart, he shared how torture had unexpectedly become part of his everyday work as a suburban Bromley GP.  
"I have patients who have been tortured for no other reason than because of their faith, ethnicity, race, gender, sexuality, or political beliefs," he said.  "The countries change and so do the languages, but the problems and the people remain the same.
These 'neighbours' of ours are often struggling with their health, marginalised by our society, discriminated against by individuals and the bureaucratic system they have to negotiate.  Who more than these people need our help?"
Matthew encouraged his listeners to educate themselves about the realities of torture survivors' lives, and to give generously in support of Freedom from Torture's work.  But he also asked them to make their voices count; to speak to people about the charity and engage them.
"We supported Freedom from Torture in these ways," Donya said, "We hope that by encouraging others to do the same, we will continue to help torture survivors."
You can pay tribute to a loved one by visiting Freedom from Torture's virtual Remembrance Garden here: https://freedomfromtorture.memorypage.org/remembrancegarden.  Donations are optional.