The Great Street Feast 2020
Date
Venue
Join us for a world-class evening of gourmet street food and entertainment in support of Freedom from Torture, celebrating food and cultures from around the world.
We are delighted to announce our 5th annual The Great Street Feast will be returning to the prestigious BAFTA 195 Piccadilly on Wednesday 17 June 2020 (7:00pm - 10:30pm)
To celebrate Refugee Week, we are bringing together a hand-picked selection of London's finest chefs to cook alongside survivors.
Mix with Chefs and Celebrities, sharing food and laughter while raising money for survivors of torture.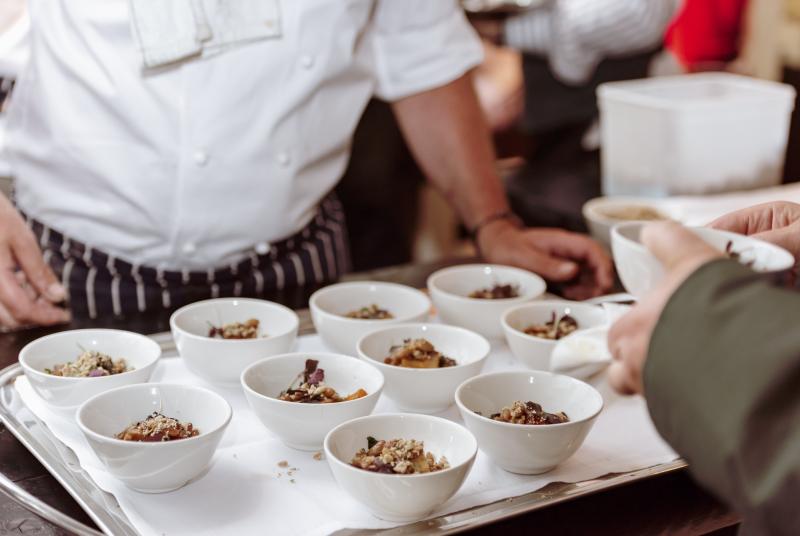 This year's all-star chef line up include:
Paul Merrett - the award-winning TV chef, author and director of three renowned gastro pubs in South-West London. He has regularly on Saturday Kitchen, Sunday Brunch, The Secret Chef and Masterchef.
Anton Manganaro has been Head Chef at the prestigous BAFTA HQ for more than 10 years. He is responsible for masterminding the menu of the annual BAFTA Awards.
Cesar Garcia of Iberica, known for innovative modern Spanish cuisine with an Atlantic twist.
Paul Bates - Executive chef at Grosvenor House, Park Lane. He has previously held the position of Executive Chef at several exclusive London Hotels.
Daniel Ribeiro -  Ceviche family's Group Head Chef. A Le Cordon Bleu graduate, he has worked at numerous top hotel restaurants in London, Hong Kong, Brazil and France.
Masterchef finalist Luke Bryan of Kricket, is best known for blending British ingredients and Mumbai-inspired flavours in their three top London restaurants.
William Curley, one of the UK's finest Patissier-Chocolatiers, whose accolades include being four-times winner of 'Britain's Best Chocolatier'. 
Survivors from Sri Lanka & The Congo- Freedom from Torture clients creating authentic dishes that remind them of home.
This year's event will also feature a Celebrity Tasting Panel, participating in a 'blind taste test! Led by Broadcaster and Patron John McCarthy CBE along with the BBC's Fi Glover and Martha Kearney.
With specialist fine wines from Farr Vintners, you can also enjoy live entertainment, a gastronome-inspired Live Auction, gourmet prizes to win in the grand raffle and handmade gifts from our therapy garden.
Tickets are priced at £65 and include all food, wine and entertainment.
With all proceeds going to Freedom from Torture.
Book online or call us on 020 7697 7808