Parliamentarians salute ten years of Survivors Speak OUT
Parliamentarians, torture survivor activists and directors of human rights organisations were amongst the many guests joining Freedom from Torture trustees and staff at the Survivors Speak OUT (SSO) tenth anniversary event at the Houses of Parliament on 26 June, the International Day for Support of Victims of Torture.
The Survivors Speak OUT event kicked off with a bittersweet reminder of home for many present; a Congolese song, led by activist Jeanp'y, Yahweh Sala (God is working), before moving on to celebrate the crucial contribution survivors of torture bring to policy-making, and the work of Survivors Speak OUT.
This was recognised in the introductory address by host Dominic Grieve MP, former Attorney General, who emphasised how parliamentarians there were, "here to listen to survivors and develop ideas with them from what we hear today."
Survivors Speak OUT co-founder Serge Eric, who was tortured in his home country and detained upon arrival in the UK, highlighted the journey many SSO activists have taken, as well as their resilience and determination:
"Thirteen years ago, I arrived in the UK a broken man… sometimes I cannot believe that I am the same person. In 2008, we started using our voices to speak out against torture, inform decision-making and educate the public while empowering other torture survivors… Going forward we will carry on putting our voice out there so that people who have suffered like us might get better justice, and to prevent what happen to us happening to others in future."
"Going forward we will carry on putting our voice out there so that people who have suffered like us might get better justice, and to prevent what happen to us happening to others in future."
Labour Party leader, Jeremy Corbyn, attended and met with survivors, many of whom he already knew as Freedom from Torture's London Centre is in his constituency. He had earlier sent a video message, in it he said:
"It's imperative that we as policy makers listen to them as experts, and involve them in creating solutions. That way, we can ensure that the UK remains a place of sanctuary and protection for survivors of torture and for other refugees, and ensure that once here they are treated with dignity and respect, the dignity and respect that we need to all work together to achieve an end to torture worldwide."
Other parliamentarians attending were: Baroness Shami Chakrabarti, Crispin Blunt MP, Joan Ryan MP, Paul Williams MP, Rupa Huq MP, Thangam Debbonaire, Lord Alf Dubs, Richard Benyon MP, Stewart McDonald, Yvette Cooper, Nigel Ellway MP, Baroness Fiona Hodgson, Bob Stewart MP and Jim Shannon MP. The event also saw Director of Amnesty International UK, Kate Allen, attend as well as attendees from Liberty, Redress, Asylum Matters and the Home Office.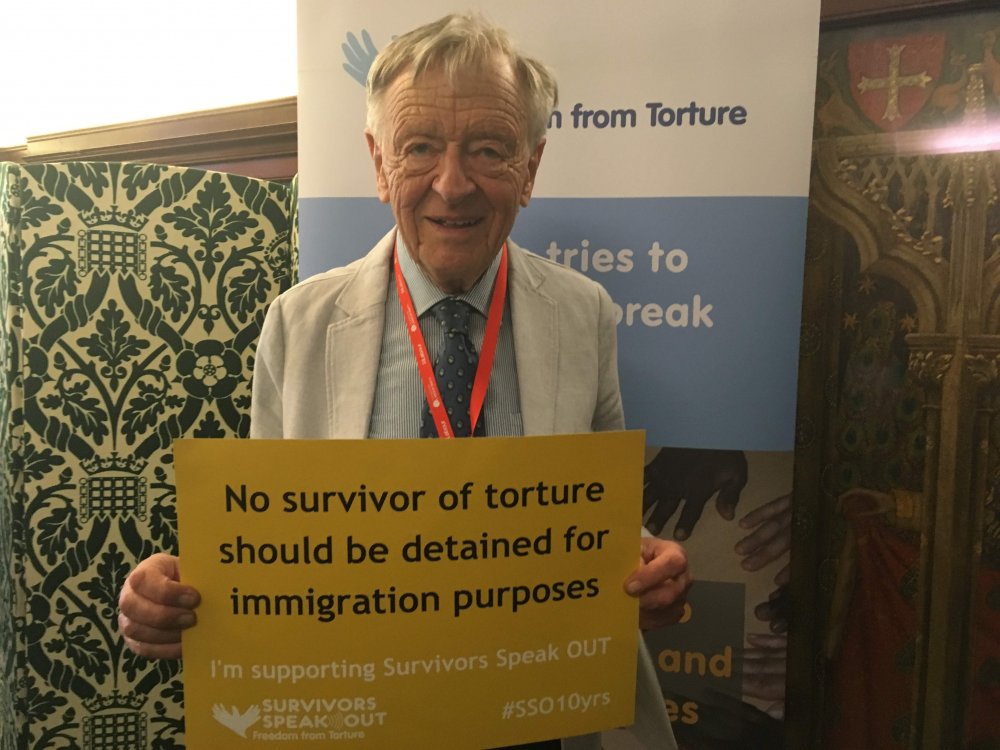 Though the event was a celebration of Survivors Speak OUT on their anniversary, it also highlighted how much still needs to be accomplished.
In the UK asylum system, many torture survivors are hindered or disbelieved when presenting their case to the Home Office and Home Office caseworkers regularly ignore, misinterpret or replace expert medical evidence provided as part of asylum claims, as detailed in our Proving Torture campaign. Torture survivors are still being detained in immigration removal centres, at huge detriment to their mental health, and despite official guidance stating that they should not be. Access to rehabilitation services for torture survivors in the UK is difficult and the efforts of survivors to integrate are hampered by lack of provisions, such as English classes, and the fact many existing qualifications not recognised in the UK.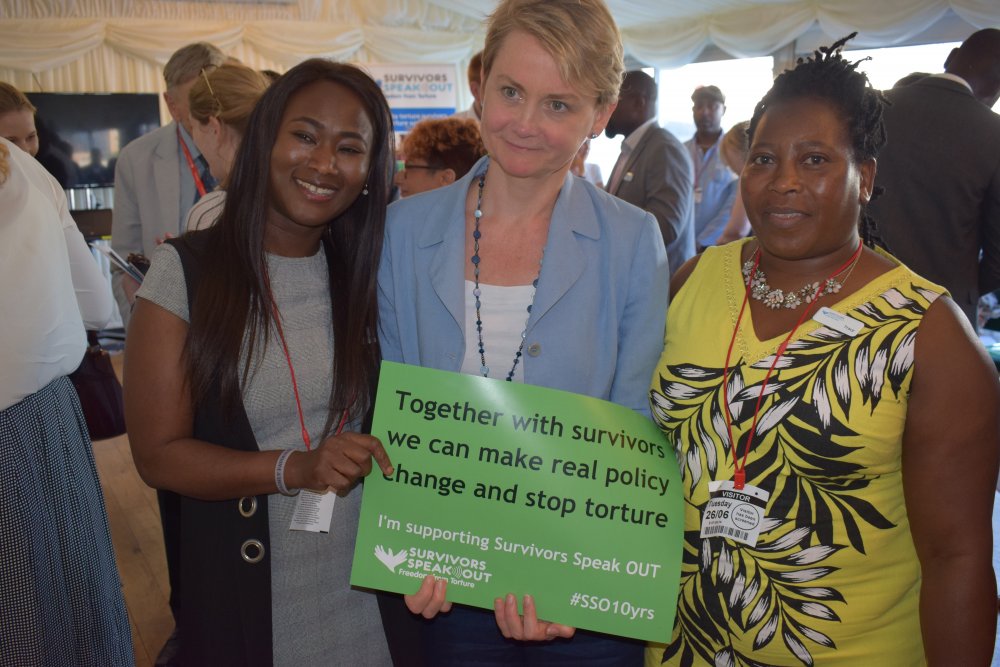 Sonya Sceats, Chief Executive of Freedom from Torture, echoed these sentiments. Summing up, she said:
"Thank you to all the parliamentarians here today. Now more than ever, we need you to add your voices to these issues affecting survivors of torture because torture is not an academic issue, it has real consequences. We need you to challenge UK complicity on torture, to support our calls to stop the detention of torture survivors and to support our Proving Torture campaign."
Read the blog by Kolbassia Haoussou, SSO cofounder, highlighting SSO's key asks.
The International Day for Support for the Victims of Torture on 26 June is one of the few occasions when torture survivors have a voice in the media and in the corridors of power. The day marks the ratifications of the UN Convention Against Torture in 1987. Today the Convention has 163 signatories, yet torture and ill-treatment by governments of their people remains endemic worldwide.