Resilience Readings Festival Highlights
The Resilience Readings, held 24 - 26 November, was our first-ever online literary festival. Read more to find our celebrity-endorsed resilience reading list, watch the performances, and read the winning poems from our poetry competition.
What is the Resilience Readings?
Running over three evenings in November, the Resilience Readings brought together a host of famous actors, authors and poets - alongside survivors of torture. With performances, readings, discussions and music – the festival brought hundreds of people together virtually to show our collective support for survivors and to celebrate their strength and resilience.
The festival raised more than £47,300 to support survivors, ensuring our creative writing group – Write to Life – will keep running.
What happened at the festival?
NIGHT ONE. The Resilience Reading List – a celebrity-hosted book club, panel discussion and Q&A, covering books that have helped us all to get through challenging times. Led by award-winning authors Nikesh Shukla (The good Immigrant), Louise Doughty (Apple Tree Yard), Peckham-born poet Caleb Femi (the first Young People's Laureate for London) and BAFTA-award winning actor Fiona Shaw (Killing Eve).
NIGHT TWO. Words of Resilience – an evening of poetry and spoken word, with performances from leading poets Daljit Nagra, Ian McMillan, Imtiaz Dharker and Inua Ellams and winners of our resilience poetry competition.
Plus special performances from survivors of torture from our Write to Life group.
NIGHT THREE. The Power of Resilience saw performances and readings from authors, actors, poets and survivors of torture around the theme of resilience.
With readings by English actress and Hollywood star Thandie Newton, best-selling author Tracy Chevalier (Girl with a Pearl Earring), Scottish poet, playwright, and novelist Jackie Kay (Red Dust Road) and renowned poet John Hegley.
Plus survivors of torture from Write to Life - our creative writing group performed original, moving pieces and we saw a special virtual performance by the Sing for Freedom choir.
The Resilience Poetry Competition
Alongside the Resilience Readings festival we ran our first-ever poetry competition – calling for poems themed around Resilience. The competition was judged by Daljit Nagra, Ian McMillan, Imtiaz Dharker, Inua Ellams and Kate Simpson from Aesthetica Magazine.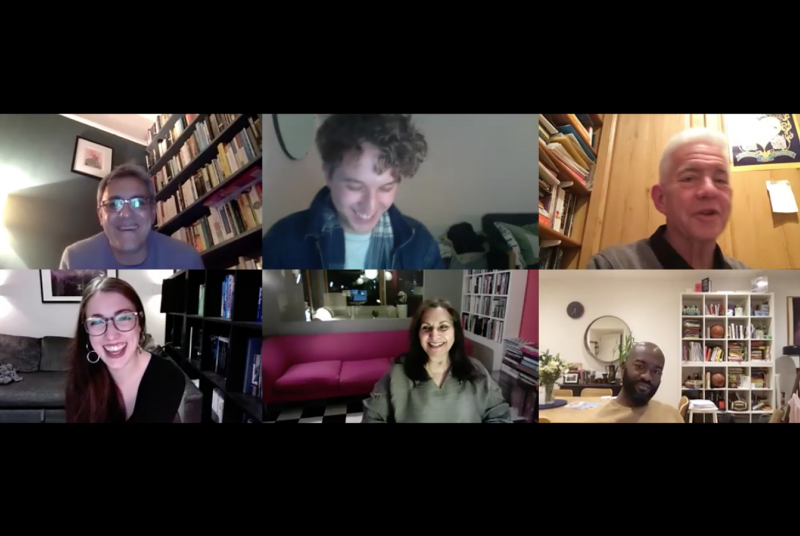 After hundreds of entries our judges chose six finalists, which were performed on night two of our literary festival.
The Resilience Auction
Our Resilience Literary Auction ran alongside the festival – offering a range of prizes and experiences to raise funds to support survivors of torture. From signed Bernardine Evaristo and Philip Pullman literature; writing workshops with Mark Haddon and Kate Clanchy, artwork by Quentin Blake to the chance to appear as characters in books by Margaret Atwood, Ken Follett and Michael Morpurgo, there were a lot of unmissable prizes to bid for.
The auction raised an incredible £23,000 to support survivors of torture.
 
How can you support survivors of torture if you missed it?
If you missed the Resilience Readings and would like to donate and support our work, you can donate to fund creative writing workshops for a survivor of torture.
Write to Life
We were honoured to include special readings from survivors of torture in our Write to Life group, which were performed over the course of the festival.
Read their specially selected pieces.
donate to fund creative writing workshops for a survivor of torture